If you have been watching History's reality show 'American Pickers' from the beginning, then you probably familiar with Mike Wolfe and Frank Fritz. However, a new cast member, Jersey Jon, was introduced to the show in season 7. Fans are wondering if he replaced Frank on American Pickers. 
Who is Jersey Jon?
Jersey Jon is an expert picker. He fills the gap of Frank on American Pickers. He made his appearances on January 25, 2021. Additionally, Jersey's expertise didn't come from studying antiques in college. It's natural for him.
Jersey Jon is an all-around antique expert. He has nicknamed him the "Preserver of Memories." Jersey Jon was born as Jon Szalay in February 1963, in Perth Amboy, New Jersey. His father, Frank, ran a small engine repair business. While growing up, Jersey collected the old pieces of furniture for people, and then he sold it.
At 17, Jon bought an old bank and then converted it into a workshop with an apartment. He wasn't out of high school when he moved into the bank. Following his high school, Jersey attended the University of Hard knocks.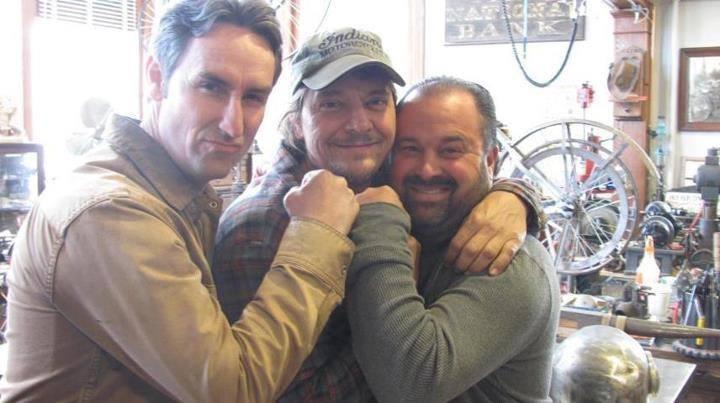 The reality star restores vintage objects, but his true love is motorcycles. Jon loves motorcycles so much. He elven participated in a pre-1916 Cannonball Motorcycle Rally along with a 1911 Harley-Davidson. In the 1980s, he got involved with antique motorcycles.
In an interview with Antique Motorcycle Foundation, Jersey said he knew Mike Wolfe long ago before American Pickers. He told Mike is his friend. As per Jon, "He's a great friend. When he's working on the East Coast, he sleeps on my couch." When he went out west for the Davenport meet, they would pick up and down the Mississippi River. He and Mike have been friends for more than a decade before Mike became a household name.
He is a restorer. He has a restoration shop, 'First National Antiques Restoration' is in New Jersey. He restores any vintage pieces in his restoration shop.
Will he continue American Pickers?
According to IMDb, Jersey appeared in one episode of American Pickers in 2021. Last year, he shared on his social media that new episodes of American Pickers are coming on History Channel that features himself and Mike. You can watch American Pickers on Monday at 9 pm on History Channel.