'Swamp People' returned this year with the all-new season 12, and it was back with a couple of new faces and a couple of familiar ones. Today, we will be talking about Robert "Frenchy" Crochet, who returned after missing out on the last season of the series.
You will be getting to know everything there is to know about him, including his net worth and bio.
Robert "Frenchy" Crochet Age & Family.
We may not have much on Crochet's early life for you, but we do know he was born on July 3, 1964. It means that he is currently 56 years old and turns 57 in just a little over a month now.
He comes from Houma, Louisiana, the biggest city in the state famous for its Cajun food and culture. If you ever visit, make sure to experience the Cajun heritage on top of activities like charter boat fishing, bird trailing, and visiting exotic wildlife parks and museums, among others.
We don't know much about his family l, but the 'My Life' website lists the names of his family members to be Rudy Crochet, Linda Crochet, Louise Eschete, Robert Eschete, and David Eschete.
Robert Crochet's Height & Social Media.
We also have information about his height which is 5 feet 11 inches or 1.80 meters. In contrast, his weight is 85 kg or 187 pounds. You can find Robert on social media pages as he has both Facebook and an Instagram account.
However, he is not that reasonably active, only posting a couple of times a month. But, we still get to see glimpses of his personal life every now and then, so it is worth a follow.
He seems to be particularly fond of sharing pictures of his dog, Ms. Stormy, and his day-to-day life in the swamp.
Frenchy Net Worth & Career.
'Stars Offline' estimates Frenchy Crochet's net worth to be around $750,000, which is valid enough considering he's been a star of Swamp People from season 7 till season 10.
And now he has also returned in season 12 and will likely continue his appearances. The 56-year-old had already quit gator hunting a few years back, but the uncontrollably growing population brought him back.
He is a commercial fisherman as well, and the shows' producers were hell-bent on casting him after they interviewed him and found him to be a perfect fit for the show.
Crochet was unsure at first but gave in to their constant request. Speaking about his first experience with part of the show, he revealed he was nervous but got comfortable real quick.
"The first night (of filming), I had butterflies in my stomach," Crochet said. "The staff and producers made it very comfortable for us so I had fun doing it."
Frenchy initially had plans to bring in another partner to help him on the show. Sadly his friend bailed out on him.
So, he went to his longtime friend, Gerard "Gee" Singleton, who jumped on the request. It all ended up being the best as they have fantastic chemistry on the show.
Even when he is not gator hunting or on the show, he is still doing other works. According to his History Channel bio, "When not hunting, he manages bee hives, harvests sinker Cyprus trees from the swamp and raises cattle."
Robert Crochet's Wife & Children.
Robert Crochet is happily married to his longtime wife, Gilda Crochet, who is also native to Houma, Louisiana. Not much information is available about Frenchy's wife, but we did find out from Facebook that she went to Thibodaux High School.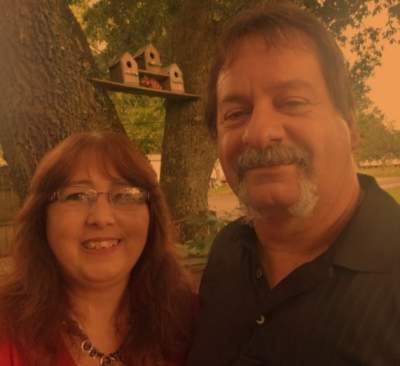 We know they celebrate their wedding anniversary every year on June 18. But we have no idea how long they've been married for. We can guess that it was a long-long time ago.
They have two children, a son, and a daughter. Their daughter Candy is 32 years old. Derrick is 27 years old and already married, and has a baby of his own.