Lizzy Musi is not a name most racing fans will recognize without much effort. Most people may know her by her association with her father or boyfriend, but many also recognize her as a famous professional racer.
Who is Lizzy Musi?
Lizzy Musi is the daughter of Pat Musi, the owner of Pat Musi Racing Engines in Mooresville, North Carolina. One can say she was born in and around cars and had begun racing at the age of only eight years old and took a break as a teenager.
It is not just her that got into racing but also her sister, Tricia Musi, who is a racer that has won the Nitrous Pro Street World Championship in the past. Lizzy also made her debut in the Pro Nitrous circuit in 2014, driving a 2009 Dodge Stratus called King Kong 5.
She became the first person to win Pro Nitrous setting a speed record for the class at 209.23 miles per hour.
She broke another record at the Professional Drag Racers Association Fall Nationals in October of 2019, hit 208.62 miles per hour in 3.615 seconds in an upgraded car, King Kong 7 Dodge Dart.
Lizzy Musi has recently starred on 'Street Outlaws' and proved herself a strong competitor in the street racing scene. She was also one of the best players in the No Prep Kings tournament in 2020.
Lizzy Musi & Kye Kelly
Lizzy Musi has been dating Boyfriend Kye Kelly since 2017. Kelly had long been friends and customer with Lizzy's father, Pat Musi, but they first met at a PDRA exhibition race where Pat introduced them to the duo.
"To be honest with you, I had never heard of him; I had never watched [Street Outlaws]!" Lizzy told Dragzine.com about their first meeting. "My dad introduced me to him, and we just became friends. He was pretty down-to-earth, seemed pretty cool, and it just started from there."
Kye was previously married to ex-wife Alisa Mote from 2015 till earlier that same year in 2017.
He also shared a daughter, Kenadeigh Alexa Kelley, with her and one more daughter from a prior relationship.
Kelly and Musi have since moved in together and live a very fulfilling dating life together.
Both of them are avid hunters and frequently go on hunting trips together.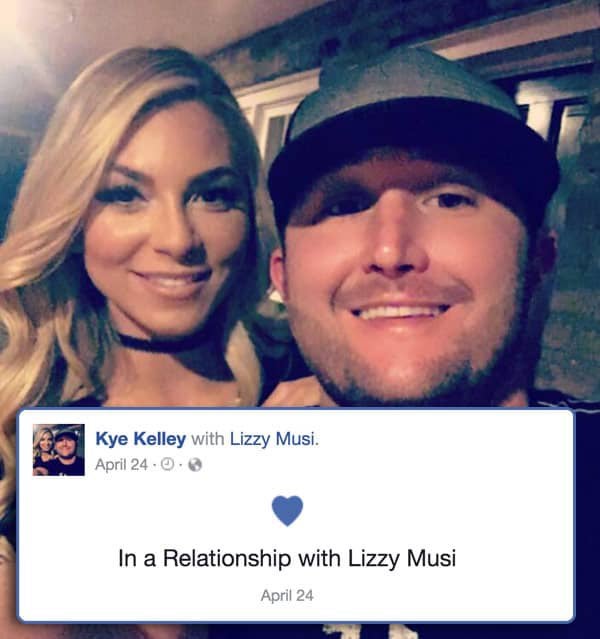 What is Lizzy Musi Doing Now?
Lizzy Musi is still fairly active in the racing scene. After she started dating Kye, she has been more and more active in street racing and participates in the show's exclusive tournament, 'No Prep Kings.'
She had a nasty accident in 2018 while testing out her Camaro called 'The Shocker' for that year's No Prep Kings, but thankfully she walked away with only minor injuries. The 30-year-old returned with a band next year, missing out by a little from winning the event.
She mostly keeps herself busy in the professional scene, though, and most of her recent posts have also been about her Pro Mod career. Her latest Instagram post was on April 4, 2021, where she posted a picture of her bold new tattoo.
She posed with her bareback in the photo as the tattoo spanned from her neck, along her spine to the edge of her lower back. "Clothed in Strength & Dignity & Laughs Without Fear of Future," was what her tattoo read in black cursive writing.
Her tattoo was a variation of a Bible verse which is Proverbs 31:25.