It seems like we have more people interested in knowing about the cast members who have left Swamp People rather than the show's current cast. One of the most prominent people who has never seemed to have left the minds of loyal fans is the Gator Queen herself, Liz Cavalier.
For beginnings, why did Liz Cavalier leave Swamp People, and where is she now?
Why did Liz Cavalier Leave Swamp People?
Liz Cavalier was one of the more than half a dozen cast members that were let go from the show at the same time back in 2015. There was a reason for such a significant cast change-up after season 6.
The show's production was overtaken by a different production company, Original Media, which remains the show's producer till the current day. Until now, the company has not revealed the reason behind the cutting of so many cast members at once, many of whom were fan favorites.
However, downsizing is a common thing we see happen every day with a change in management in any company or business. They probably had issues with the budget or wanted to keep it tight.
Liz Cavalier's Explosive Exit from the Show.
Most Swamp People cast members who exited the show with Liz or other cast members have been relatively silent about their dismissal and refrained from addressing it.
However, Liz Cavalier was not stepping in line like the rest and spoke her mind through a Facebook post.
"Due to unknown reasons by the production company Original Media, my family and myself… will no longer be participating in the Swamp People series, starting with Season 7," she wrote on a 2015 Facebook post. "It saddens me to know that our fans are the ones who will suffer from these unexplained actions by the new management of this production company. Reality. We will continue with our regular lives and hope to stay connected with all of you in the future. To all of my fans, with love, Gator Queen Liz."
The producers were unhappy with her for being so frank with the fans and pressured her to take the post down. But their request had Cavalier furious, and she did the opposite of what they wanted from her.
"Hello everyone, I was just informed [by] these people [they] want me to remove my post," she posted on Facebook. "KISS MY A$$. How you like that post! I was told they had a lot of nasty phone calls and complaints. Well, these people call this business … I'm different. I wear my heart on my sleeve, and I will die that way. My family and my heritage stay alive always until I die. I will not stop posting! And I support Louisiana 100 percent. Rather keep my pride than sell my soul to the devil!"
Where is Liz Cavalier Now?
Liz Cavalier is pretty much still hunting alligators even when she in not in the show. She wears the title given to her of being a Gator Queen with pride. She has her website, where you can book fishing and hunting trips with Liz or other events.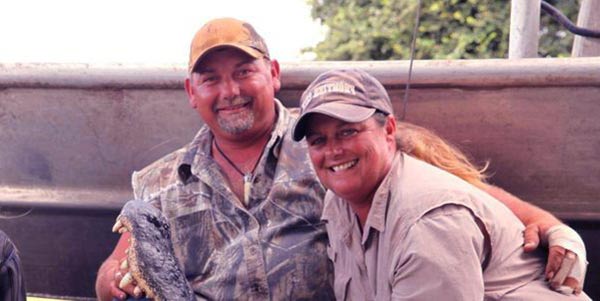 You can also buy a lot of merch like t-shirts, bumper stickers, and seasoning, among others. She seems to be doing well from her recent social media activity and official website. And still holds a net worth of around $300,000.