We can't tell what's more famous; Swamp People or the interesting characters that make up the show's cast.
Sadly, Swamp People is the reality show where they are often changing people up in the cast. And this is why we have to bid farewell to a lot of our favorite members.
Chauvin is undoubtedly one of those people, so what happened to him?
Tommy Chauvin's Tragic Accident and Injury
Tommy Chauvin, after leaving Swamp People, mostly maintained a low profile from the media. However, almost two years ago, he resurfaced after going through a dreadful accident.
On July 11, 2019, Tommy was caught up in an explosion that caused a severe injury to his entire body. We're sure he'll need a series of expensive operations and care for his injuries, so a Go Fund Me page was set up to help.
The pictures and the description clarified that Tommy's right side was directly caught in the blast where he almost entirely lost his right arm. According to the page, he ended up "rupturing his eardrums, damaging his eyes, and (having) multiple abrasions on his chest and arms."
He had to undergo two surgeries in the last week to save as much of his fingers and hand as possible. But unfortunately, a lot of his right hand and fingers still needed to be amputated, including his thumb.
The pictures of his injury are not for the weak-hearted. The fundraiser website also stated that "Future surgeries are expected as he goes through the process of trying to regain function of his primary hand."
It explained that the alligator hunter who also built beautiful boat sheds would likely have a hard time returning to work or finding any other jobs since most require the use of good hands even if he is fully recovered.
So, he has come to the website seeking donations to help pay his medical bills and keep him and his family afloat. He has so far managed to collect almost $3,000 in donations. However, this seems a little low from his goal set at $20,000 and considering the severity of his injuries.
Let us hope he can get by somehow.
Who is Tommy Chauvin? 
Tommy Chauvin was the star of Swamp People from 2010 to 2016. He appeared on the series alongside his stepfather, Joe LaFont. Despite being his stepfather, the two shared a healthy relationship and had great chemistry as gator hunting partners.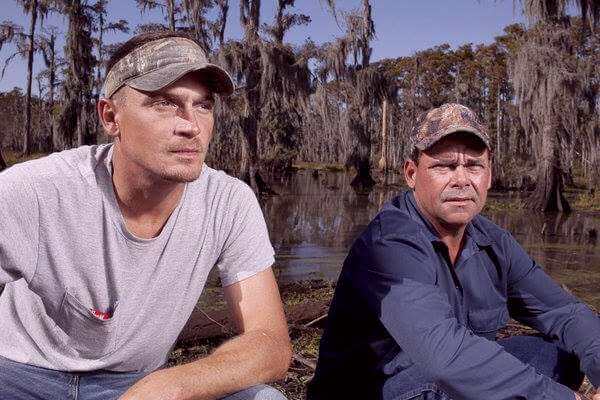 We do not know about his birth father or the rest of his family, for that matter. He was called Trigger Tommy by many for his skills and talent with the shotgun.
It is precisely why; the loss of his right-hand means so much to his career. Tommy Chauvin's net worth is estimated to be as much as $250,000. However, since he no longer gets the salary from the show, and may struggle in the future for any job.
It is why a lot more people should be helping Tommy by donating to him.